Why Refrigerant Compliance Managers are Needed
Submitted on Thursday, November 19, 2020 - 8:30am
Most refrigerants are known for their negative effect on the environment, directly contributing to climate change and ozone layer depletion. These materials make our modern lives possible, but we must use them responsibly to protect the environment.
A refrigerant compliance manager ensures compliance with the EPA's refrigerant regulations. The position requires an individual who has the authority to create a refrigerant management plan and the responsibility to oversee its implementation. This individual must have the authority and resources to coordinate the plan and effect needed changes.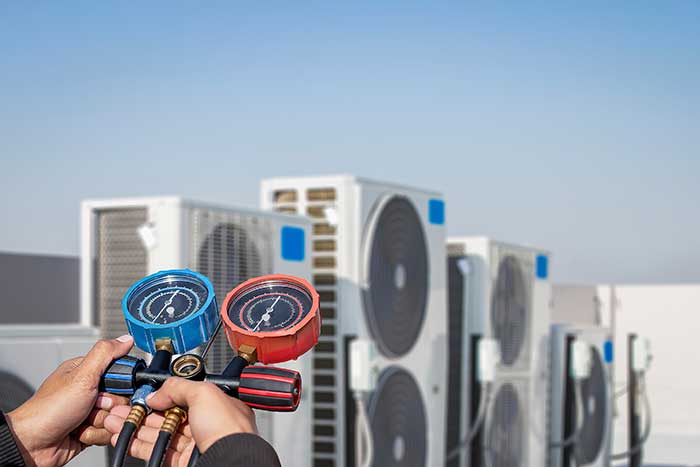 Main Duties of a Refrigerant Compliance Manager
The refrigerant compliance manager is responsible for procuring equipment and services necessary to comply with regulations. It also includes training technicians, transportation and disposal of used refrigerants, and the management of refrigeration and safety equipment. The main duties of a refrigerant compliance manager include:
Gather and distribute information on refrigerant rules, regulations and technology
Coordinate refrigerant purchases and disposal
Maintain records of refrigerant inventory and use
Develop and implement refrigerant management policies and controls
Ensure regulatory compliance through the use of a refrigerant management plan schedule
Participate in budgeting for refrigerant management
Train and manage all personnel in the safe handling of refrigerants
Reduce risks associated with refrigerant handling
The refrigerant compliance manager should have a good understanding of the facilities HVACR operations, industry standards and applicable regulations.
Environmental Impact of Refrigerant Handling and Use
Refrigeration and air conditioning systems impact our environment and contribute to climate change in two main ways:
Direct: Release or leakage of refrigerant gases into the atmosphere can cause ozone layer depletion and contribute to climate change.
Indirect: Refrigeration and air conditioning systems raise CO2 emissions, consume energy, and contribute to climate change.
Through careful use and attention to regulations, the environmental impact of refrigerants can be minimized. A knowledgeable refrigerant compliance manager affects the environmental impact of refrigerant handling and use through:
Use refrigerant gases with low global warming potential and zero ozone depletion potential.
Keep your refrigeration system tight with no leaks. Use leak-detection systems and keep up with regular maintenance.
Recover used refrigerant gases and dispose of it safely.
Reduce power consumption of the refrigeration and air conditioning systems through regular maintenance and using low impact refrigerant gas.
Improve insulation and optimize temperature set-points for refrigerators, freezers, and air conditioning to use less power.
Fallout of Improper Refrigerant Storage and Disposal
Most refrigerants contribute to climate change and ozone layer depletion. Emissions from some refrigerants absorb infrared radiation and retaining it in the atmosphere. Called the greenhouse effect, these gases contribute to environmental warming. Additionally, many refrigerants, when released into the environment, deplete the ozone layer.
Improper storage or disposal of refrigerants or refrigerant systems allow refrigerant gases to leak into the atmosphere where they can do the most damage. The release of these gases contributes to global climate change.
Why Software Alone Isn't Enough
Refrigerant tracking software is an excellent aid to the refrigerant compliance manager; however, it does not provide the human element required in proper refrigerant management. The software offers many advantages including:
Simplifying record keeping and compliance tracking
Provide data and tracking for your refrigerant compliance status
Reduce risk by preventing leaks and providing support for leak mitigation
Keeps you on top of industry regulations
Refrigerant tracking software keeps you informed of regulations and provides guidance for proper refrigerant management. However, it cannot ensure that the site management plan fits the existing equipment and site requirements. It is a tool for use by the refrigerant compliance manager, but does not provide for all of the responsibilities of the manager, including communication, leak mitigation, supervising and training employees and contractors, and the coordination of management activities.
Certification as a Certified Refrigerant Compliance Manager (CRCM)
Certification as a Certification Refrigerant Compliance Manager recognizes your professional expertise in the field of refrigerant compliance. A CRCM candidate must be able to coordinate and manage environmental and safety issues related to refrigerant handling, use, purchasing, and disposal.
The National Registry of Environmental Professionals®, NREPSM, offers certification to Refrigerant Compliance Managers who have a total of 5 years work and education experience in the area of refrigeration compliance, environmental engineering or related fields.
The candidate and apply online, submitting work experience and related education. Additionally, the applicant must pass an exam that verifies knowledge in the area of refrigeration management.
Advantages of Certification as a Refrigeration Compliance Manager (CRCM)
The National Registry of Environmental Professionals® has been certifying environmental professionals since 1987. Certification helps environmental professionals advance in their career and be recognized for their specialized skills and knowledge and that:
You have proven your experience and skill as a refrigerant compliance manager
You are committed to learning and professional excellence
You are ready to meet the challenges of the position
Your skills have been validated and are on par with the top of the field
Management can be confident in your abilities and level of professional expertise
Your qualifications in the field are recognized by employers, clients, government and military agencies
Certification as a Refrigerant Compliance Manager is an excellent way to add to your resume and stand out in a crowded field of applicants. It shows that you are qualified and committed to constantly learning the skills needed to succeed.