Careers & Duties of a Waste Management Professional
Submitted on Wednesday, December 16, 2020 - 9:45am
In his 2006 history tome The Ghost Map, popular science author Steven Berlin Johnson discussed how the 1854 Broad Street cholera outbreak devastated London. While much of the book describes how a doctor and a minister developed an epidemiological framework for fighting the disease, another part of it discusses how trash was — or wasn't — collected (which is actually how the outbreak began). Groups of marginalized people known as toshers, pure finders, bone pickers, and night-soil men processed everything from scrap metal and fabric to partially eaten carcasses to human and animal excrement.
Today's waste management professional is a far cry from those somewhat desperate and downcast figures of old. Highly trained and highly experienced, they keep modern society functioning even as they minimize pollution through effective hazardous waste management practices.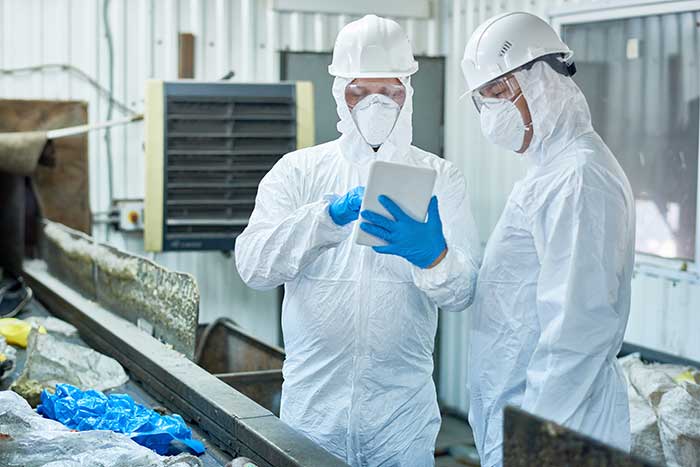 What Waste Management Specialists Do
We all know that waste management specialists no longer scrabble for scraps on the edges of society. What then do they do? According to career education site AllAboutCareers.com, "Waste management officers are responsible for overseeing and coordinating waste disposal, refuse collection and recycling activities in an efficient and environmentally-friendly manner." But that only scratches the surface of the function of waste management.
For instance, were you aware that you produce a lot of trash — and we mean a lot? Private waste business Waste Management reports, "In a lifetime the average American will throw away 600 times the amount of his or her adult weight in garbage. For example, a 150 pound adult will leave a trash legacy of 90,000 pounds." The way that trash gets handled is the job of waste management specialists.
However, it's a mistake to simply think about what waste management specialists do in terms of trash. These professionals do more than merely cart junk to a centralized dumping place. Far from it: Waste management professionals play a vital role in reuse and recycling efforts, a role that was amplified by the EPA's "Resource Conservation Challenge" that launched in the early 2000s. This includes a targeted goal of recycling 35 percent of the roughly 300 million pounds of municipal solid waste (e.g., paper, glass, plastic, rubber, wood) generated annually by individuals and organizations.
Additionally, waste management specialists must also know how to transport, store, dispose of, and document various kinds of hazardous waste. Inexperienced individuals don't traditionally think of general waste as being particularly hazardous. But consider that it's more than just industrial sources that produce toxic byproducts. Many electronic items contain hazardous materials, and according to the EPA, slightly less than 40 percent of electronic waste gets recycled every year. Making sure such waste gets properly handled and that more of it finds its way into recycling streams is part of a waste management specialist's job.
Career Paths and Becoming a Waste Management Specialist
You might be surprised to learn that there's quite a variety of careers in waste management available. Highly trained and credentialed applicants don't need to fear finding themselves sidelined into waste collection or some such similar role. Professionals curious about waste management roles and responsibilities can easily end up in managerial or consulting positions. Other roles include personnel manager, industrial hazardous waste manager, compost processing, facilities management, educational and outreach management, sales manager, and more. Waste management specialists truly have multifaceted opportunities and responsibilities.
Of course, such positions come with prerequisites. Villanova University states, "A bachelor's degree in engineering or environmental science is a recommended starting level of education. In large cities, workers looking to advance to higher levels of management may find employers prefer a master's degree, such as environmental science or public administration." The university also suggests that understanding local laws and ordinances, as well as the science behind the various waste types and physical disposal apparatus, can greatly contribute to a waste manager's success. Indeed, we hope we've made it plain by detailing these various waste management qualifications that this is a challenging, highly technical, and highly rewarding field.
Common Duties & Daily Operations for Waste Management Professionals
Trying to detail the exact duties and daily task for a waste management professional is a challenging task. Why? Well, because the field can encompass and interact with so many other fields. On any given day, a waste management professional's daily operations may include:
Development of contaminated and/or hazardous waste disposal procedures. Waste management professionals do more than merely facilitate the removal of various kinds of materials. They must also develop the rules to make sure this removal occurs in a safe and efficient manner. Additionally, waste professionals ensure that these rules comply with Federal and local statutes.
Development of storage protocols for hazardous materials. Not every potentially dangerous substance needs to be removed from a company's premises. In industries such as technology and pharmaceuticals, these compounds need to safely remain on-site. It's a waste management professional's duty to make sure that this happens.
Development of recycling programs. While this duty could be considered a subset of the above task, it's also a distinct duty in its own right. Many municipalities have set an explicit goal of minimizing landfill usage, which makes recycling its own discrete undertaking.
Management of waste facilities. From supervising public works and sanitation facilities to coordinating waste collection and the disposal of hazardous waste, waste professionals ensure that plants and equipment continue run effectively.
Management of staff. A large part of many waste management professionals' duties involves ensuring that subordinate staff maintain adequate performance.
Providing outreach and marketing. Waste professionals don't merely work with residential and industrial byproducts. They also communicate what their companies and/or governmental departments are doing. This is particularly important when dealing with matters of public health and legal compliance.
Working with accounting and budgetary milestones. No matter the specific type of waste management, it all must meet appropriate fiscal measures in order to remain sustainable. Waste management business analysts and other waste management professionals ensure that their activities conform to all fiscal metrics.
Selling waste materials to third parties. "One man's trash is another man's treasure." That old proverb is doubly true when it comes to waste management. A major way in which waste management professionals deal with byproducts involves selling them to others who can put them to use.
Why get into waste management?
Some people may wonder why you'd want to consider a job in a seemingly "messy" field. One answer you've doubtlessly seen on the backs of septic trucks: "It smells like money to me!" Indeed, waste management professionals tend to early substantial salaries. Salary.com says that the median salary for a waste management manager is $109,037 as of November 25, 2020, and Statista reports that the projected solid waste management industry revenue will be $530 billion by 2025. Entrepreneurs are also starting their own businesses to serve various segments of the industry.
But being in it for the money is far from the only reason to pursue this line of work. As a fast-growing and highly technical field, it's also professionally rewarding. Environmental manager training and other types of professional education offer a satisfying challenge, as does its implantation in daily work life.
Indeed, sometimes the fulfillment that challenge provides has more to do with its social impact. Consider the EPA's statistics saying that every person produces 4.9 pounds of refuse every day, which translates into 292.4 million tons annually. Of that, only 69 million tons get recycled and 25 million tons gets composted. A desire to protect the environment is a driving force behind why some choose to become waste management professionals.
Finally, waste management professionals have jobs that benefit humanity as a whole. Unmanaged trash is a health risk for more than just the environment. It also hurts people, and it can do so for generation after generation. By applying best practices, waste management professionals can help people all around the world.
Importance of an Appropriate Waste Management Policy
If you were to look solely at the statistics we've shared so far, you might find the picture more than a little dispiriting. Given the amount of trash and toxic materials that don't get properly disposed of or recycled, it's inevitable that some of them are having a negative impact on human life and the wider environment. That impact can include increased:
Water contamination
Air contamination
Soil contamination
Reproductive issues
Respiratory syndromes
Juvenile development issues
Premature wildlife death
Pest multiplication
Fortunately, these side effects don't have to occur. Thanks to the increasingly developed field of professional waste management, the worst of these issues can be managed — and you can be part of the solution.
For more than twenty-five years, the National Registry of Environmental Professionals®® (NREPSM) has helped environmental and safety professionals receive appropriate accreditation that testifies to their expertise in their chosen field. The largest nonprofit accrediting organization in its field, NREPSM is recognized by United States Department of Energy (DOE) and Environmental Protection Agency (EPA). Become one of the more than 15,000 NREPSM professionals by receiving your Certified Waste Management Professional certification. Learn more about getting certified today!