EPP - Emergency Planning Professional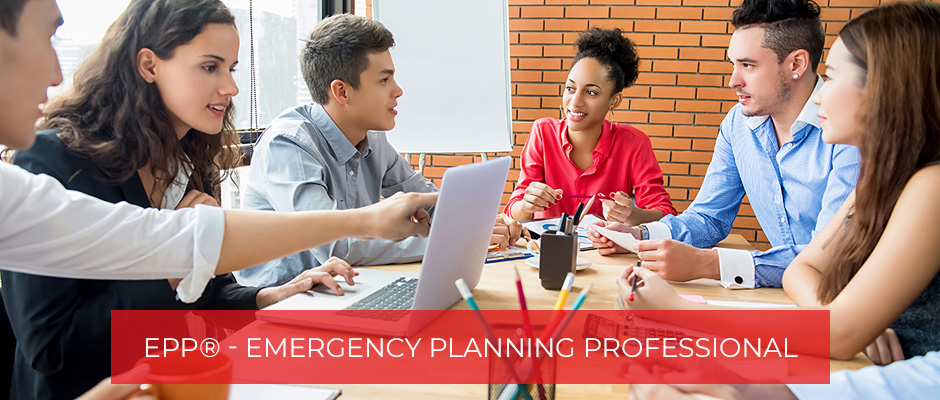 The purpose of the 'Emergency Planning Professional (EEP) certification is to guide personnel responsible for developing an emergency planning system for their organization or community. This certification includes the emergency planning process along with the rationale behind planning. It aims to help in preparing an effective EOP (emergency operations plan) – forming a team and framing the planning process and format.  This will build capability for effective participation in all-hazards emergency operations to save lives and protect property threatened by disaster. 
The Emergency planning section addresses in detail, the phases of Emergency management, steps in the emergency planning process, threat analysis, the development and maintenance of the plan.
The EPP certification also comprises of the Incident command system (ICS), under the National Incident Management System (NIMS). ICS is a standardized approach to incident management - command, control, and coordination of on-scene incident management. ICS represents organizational "best practices" and is considered a standard for emergency management.
Important Points:
Prerequisites are ICS 100, 200, and 700 must be completed before taking this course
Location: Security Tactics Academy 6110 Pinemont Drive Suite 100 Houston Texas 77092 
This is an in-person class not a webinar.
Instructors can provide this course at the organization or business facility provided there are at least 10 students and the travel/hotel cost are provided by such organization or business. 
Education:
• BS & BA degree or at least two years of practical experience • For working professionals, three (3) years of acceptable work experience may be substituted for each year of an academic degree program. • The candidate needs to possess knowledge prior to taking the EPP workshop in National Incident Management Systems (NIMS) as well as in Incident Command Systems ( ICS).
Work Experience:
Two years of work experience in emergency planning and preparation.
Certification Type:
Project Management/Coordination Programs
Study Guide
This is the recommended study guide for the EPP™ - Emergency Planning Professional Certification Examination.