EPP - Emergency Planning Professional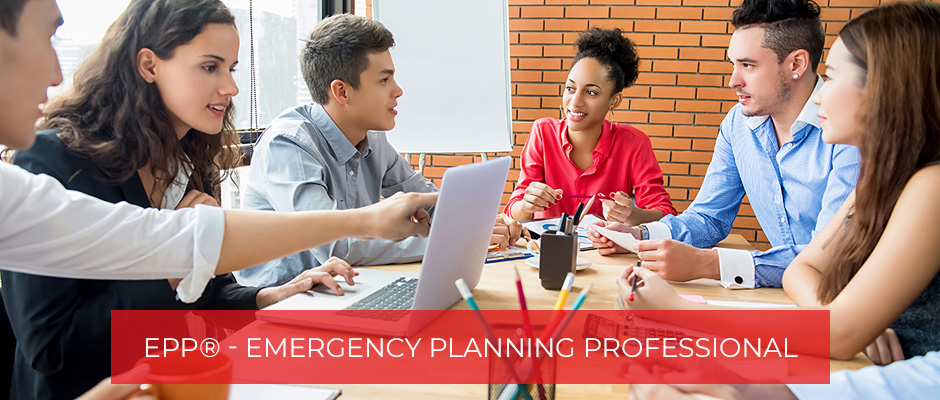 The purpose of the 'Emergency Planning Professional (EPP) certification is to guide personnel responsible for developing an emergency planning system for their organization or community. This certification includes the emergency planning process along with the rationale behind planning. It aims to help in preparing an effective EOP (emergency operations plan) – forming a team and framing the planning process and format.  This will build capability for effective participation in all-hazards emergency operations to save lives and protect property threatened by disaster. 
The Emergency planning section addresses in detail, the phases of Emergency management, steps in the emergency planning process, threat analysis, the development and maintenance of the plan.
The EPP certification also comprises of the Incident command system (ICS), under the National Incident Management System (NIMS). ICS is a standardized approach to incident management - command, control, and coordination of on-scene incident management. ICS represents organizational "best practices" and is considered a standard for emergency management.
The course includes the features, principles, and organizational structure of ICS. ICS system is used nationwide to manage incidents regardless of size or type.
At the end of the course, the student would be
ready to implement a six-step process for developing and maintaining an emergency operations plan
become familiar with the principles of ICS and NIMS used to manage incidents
be prepared to coordinate with response partners from all levels of government and the private sector.
This new certification from NREPSM would provide a competitive edge to a professional since the employer can look up to a certified individual who can lead the response in an emergency or hazard of any kind, at any time, since the individual would have been involved right from the early stages of planning and be familiar with the overall picture.
An EPP certified individual can be at the forefront of the emergency handling – with preparedness in terms of who, what, how, why, when, in case of an emergency.
Important Points:
Prerequisites are ICS 100, 200, and 700 must be completed before taking this course
Location: Security Tactics Academy 6110 Pinemont Drive Suite 100 Houston Texas 77092 
This is an in-person class not a webinar.
Instructors can provide this course at the organization or business facility provided there are at least 10 students and the travel/hotel cost are provided by such organization or business. 
Education:
• BS & BA degree or at least two years of practical experience • For working professionals, three (3) years of acceptable work experience may be substituted for each year of an academic degree program. • FEMA 100, 200, 300, and 700 must be completed prior to class. Exam To earn the certificate, participants need to take a quiz provided at the end of the study material. In addition, they will be provided a task to create an EOP for a given organization or facility utilizing the ICS elements and EOP template. After a day of creating said EOP the class will present the EOP and a critique and discussion will follow for final grade.
Work Experience:
Two years of work experience in emergency planning and preparation.
Certification Type:
Project Management/Coordination Programs
Study Guide
This is the recommended study guide for the EPP™ - Emergency Planning Professional Certification Examination.