What does an Environmental Laboratory Technologist Do?
Submitted on Friday, January 15, 2021 - 2:00pm
Environmental professionals fulfill many roles in safeguarding the wider world, but some of them are more evident than others. For instance, natural resource professionals help create policies that discourage unsustainable exploitation. Refrigerant compliance managers ensure that third parties carefully manage toxic chemicals. And industrial hygiene professionals help administer multiple environmental risks arising from organizations' activities.
In contrast, the work of environmental laboratory technologists (aka, technicians) takes place behind the scenes, making important discoveries and setting environmentally friendly courses far away from the spotlight. This post will explain what environmental laboratory technicians do, list their job prospects, and discuss certification details and requirements.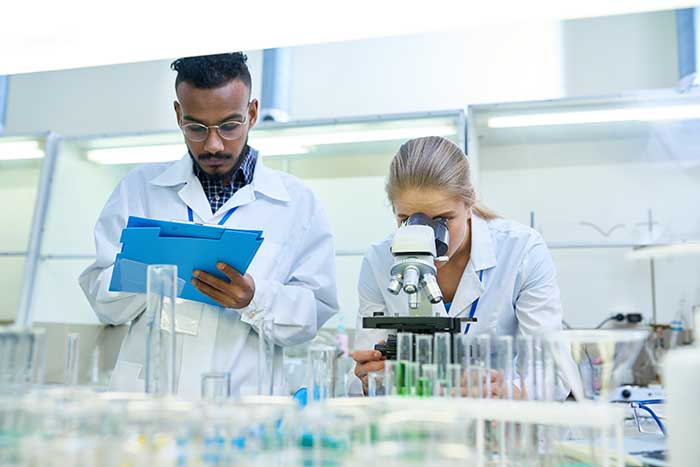 Environmental Technician Duties & Responsibilities
How do you determine if a particular site has a pollution problem? How can you tell if a once contaminated site has been successfully remediated? How can you know if claims regarding a substance's toxicity toward wildlife are actually true? The answer is through the work of environmental lab technicians.
What does an environmental lab technician do exactly? Unsurprisingly, many environmental laboratory technicians work in labs, some of which are directly supported by state governments or federal agencies. In these contexts, lab techs may find themselves:
Testing surface, ground, and drinking water in order to determine if they contain any number of contaminants
Providing related analyses for air and soil, conducting tests that test for organic and inorganic compounds
Conducting samples from industrial sites, public lands, and/or related areas
Installing monitoring equipment that collects vital data
Operating said monitoring equipment
Performing data-entry services
Conducting safety audits of your site or clients' sites
Implementing OSHA-compliant safety standards
Sterilizing lab equipment according to generally accepted professional standards
Maintaining adequate stocks of technical goods and equipment
Offering technical support to professionals with third-party organizations
Interpreting results from tests conducted by others
Making data-driven recommendations for specific sites in various states of remediation
Managing subordinates as they conduct related work
In short, environmental lab technicians have a diverse array of duties. And as we will see in a moment, they often work in an equally wide variety of contexts.
Where Does an Environmental Lab Technician Work?
If you start a career as an environmental laboratory technician, you very well may find yourself working for a state-supported organization or a federal agency of some sort. However, some techs in environmental lab jobs end up working for private consulting firms. Others end up directly employed by businesses in various industrial sectors.
Most lab techs can usually expect to spend their days in a laboratory context working regular hours in a steady routine. But note the use of the word "usually." Because enviro techs often become involved with site cleanup and remediation, that can change. That's why the U.S. Bureau of Labor Statistics explains that these specific kinds of environmental science jobs "must sometimes work irregular hours in order to monitor operations or contain a major environmental threat." Still, that irregularity hasn't impacted the sector's forecast job growth. It is currently expected to grow by seven percent over the next decade, outstripping the four-percent projections of all other jobs.
Popular Industries for Environmental Laboratory Technologists
As stated in previous sections, most jobs for environmental laboratory technicians involve positions with state governments, federal agencies, or various consultants who offer expert counsel to entities seeking to comply with environmental guidelines. But environmental lab techs can also find opportunities with private companies. Some of the most popular industries for environmental laboratory technologists include:
Inspecting and consulting
Aviation / aerospace manufacturing
Public utilities / energy production / infrastructure development
Defense contractors
Healthcare (e.g., hospitals, pharmaceutical manufacturing)
Construction and engineering
Agriculture and food production
Risk management
Geology
Alternative fuel production
Oil, gas, and traditional energy production
Semiconductor manufacturing
Indeed, almost every company whose business involves manufacturing or the handling of potentially toxic and restricted materials will employ or use the services of an environmental laboratory technician.
Environmental Technician Skills & Competencies
Are you wondering how to become and environmental laboratory technician? Does helping the wider environment through the application of rigorous, data-driven metrics sound like a field in which you want to work? Then you need to understand what kind of skills will be required of you.
If you read environmental lab technician job descriptions, you will find listings of various required competencies time and again. Some of these are:
Competency in fundamental chemistry, including metals, non-metals, inorganics, and organics
Ability to understand and apply relevant environmental standards
Investigative temperament and unflagging attention to detail
Problem-solving orientation and agile thought processes
Understanding how to provide reasonably accurate estimates related to task completion
Ability to successfully complete all assigned work either individually or in a group
Ability to competently use and clean up after using scientific equipment
Understanding of basic safety procedures and willingness to ensure they are followed
Ability to perform data entry, transcription, basic coding, inventory management, and record keeping tasks
Ability to condense and synthesize highly technical information in order to make it comprehensible for a more general audience
Basic physical fitness required for on-site movement and materials movement
Environmental laboratory techs who assume a managerial role will need to have additional skills, such as:
Assigning tasks and managing schedules as part of a lab workload
Penning required technical reports
Conducting safety audits
Managing a laboratory budget
Determining laboratory performance according to accepted statistical measures
Environmental Technician Similar Jobs
Given that environmental lab techs have comprehensive skills sets which are applicable to many different fields, it's no wonder that searches turn up a number of related jobs. Some similar jobs include:
Environmental monitor
Groundwater sampling technician
Environmental health and safety trainer
Habitat specialist
Agricultural and food-science technician
Industrial ecologist
Biotechnician
An environmental laboratory technician's job can also lead to further advancement if one's job performance excels. Some positions to which you may aspire as an excellent lab tech are:
Senior chemist
Senior research associate
Laboratory manager
Senior scientist
Senior environmental scientist
Senior quality control chemist
Research and development manager
Senior laboratory analyst
Environmental Technician Education, Training & Certification
If you want to become an environmental lab technician, you will need some higher education in order to remain competitive. According to Zippia, roughly two-thirds of all environmental lab technicians have at least a bachelor's degree. At a minimum, applicants should at least have earned an associate degree or some similar two-year degree in a science-related field such as biology, chemistry, computer science, or math.
Having an environmental lab technician certification such as the Registered Environmental Laboratory Technologist (RELT) certification offered by NREPSM can help boost your professional prospects. The RELT certification requires either Associate of Arts degree in either chemistry or biology. Alternatively, applicants can substitute four consecutive years of professional experience for the educational requirement. Finally, you must have two consecutive years of lab work involving research and/or evaluation of contaminated environmental sites. Please note that your work must have also involved wet chemistry (i.e., analytical chemistry conducted with classical measures) and various analytical devices.
Since 1988, NREPSM has served as the largest non-governmental environmental accrediting organization in the United States and counts 12,000 scientists and other professionals among its members. It is fully recognized by both the Environmental Protection Agency and the U.S. Department of Energy. Visit our website to learn more about RELT certification or contact us for more information about NREPSM.