Industrial Hygiene Professional: Jobs, Employment & Responsibility
Submitted on Friday, March 27, 2020 - 8:15am
Industrial Hygiene Professionals are the environmental scientists who protect work environments from job hazards such as industrial chemicals and hazardous processes. They are vital to workplace safety and may work in a variety of situations.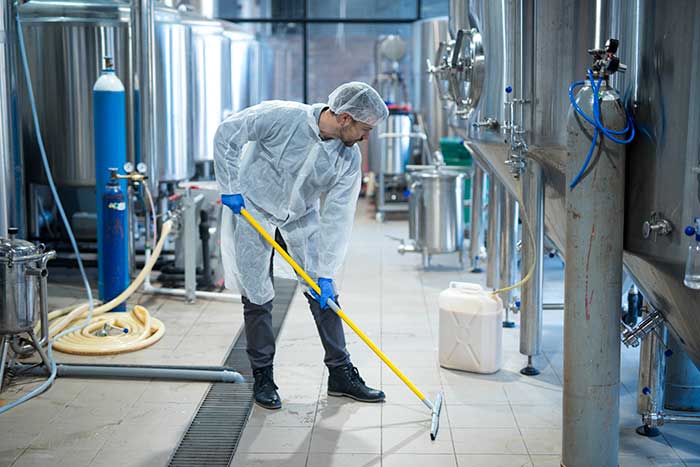 What does an Industrial Hygiene Professional Do?
Workplace illness and injury costs are high in employee health, livelihoods, and lives. If businesses are negligent in protecting their employees, they can be hit with high fines, compensation for affected workers, and a loss of reputation. It is the job of the Industrial Hygiene Professional to work as safety inspectors, protecting the employees, work environment, and the business from neglect or accidental safety hazards in the workplace.
IHP responsibilities are to anticipate and identify problems in the workplace before or as they appear. It is their responsibility to know what to do when a safety problem arises and to change processes to prevent them.
Many processes require toxic substances in the workplace. Industrial cleaning fluids, testing chemicals, industrial processes, and other substances and situations pose a potential public health problem for people and the environment. The IHP line of work is to make sure that all processes are safe and all systems are working properly. They make sure employees have the appropriate safety equipment and that all equipment is working as it should. They may also be responsible for training employees in health and safety procedures.
What Education Do I Need as an Industrial Hygiene Professional?
A career as an Industrial hygiene professional requires minimum of a bachelor's degree. Most often, an industrial hygiene professional has a BS or BA in mechanical engineering, chemical engineering, chemistry, physics, biology, industrial hygiene, industrial safety, or a related field. These occupational health and safety professionals need to understand the effects of chemicals and substances in the workplace, on the body, and in the environment. A background in environmental law or medical experience is helpful, but not required.
Occupational health and safety professionals with advanced degrees or those certified as a Certified Industrial Hygienist or Certified Associate Industrial Hygienist will usually have more IHP employment opportunities. A master's degree with training in hazardous materials, public health, health and safety law, and other related areas hold the most potential.
Individuals desiring a career in Industrial Hygiene who lack the necessary education can start in the field as an Occupational Health and Safety Technician. This starting position requires only a high school diploma and some on-the-job training or an associate's degree. Industrial hygiene technicians work with Occupational health and Safety Specialists to promote workplace safety.
Important Skills for an Industrial Hygiene Professional
Industrial hygienists must be detail orientated and have a strong science background. Additionally, Industrial Hygienists need:
Excellent communication skills
Keen observation skills
Ability to detect problems and report them
Diplomacy and leadership skills
Ability to work with management and colleagues
Strong computer skills
Attention to detail
Record keeping skills
Ability to work as a team
Strong organizational skills
Ability to use specialized equipment for monitoring hazards
Job Responsibilities of Industrial Hygiene Professionals
Industrial Hygiene Professionals job responsibilities involve protecting the workplace, environment, and employees from hazards of all kinds. They work in a wide variety of job situations. Many work as government inspectors ensuring that businesses and individuals follow workplace safety rules and safe handling of hazardous materials. They might fulfill similar roles for the CDC, military, colleges and universities, or scientific institutes.
Other Industrial Hygiene Specialists work in factories or on construction sites where they are responsible for protecting employees with a safe workplace. They identify health hazards and risks present in the workplace and communicate the problem to management. IHP duties also include:
Conduct regular inspections to identify risks in the workplace
Develop action plans and programs to provide a safe workplace
Provide training to employees on workplace safety
Investigate accidents, workplace injuries, and deaths and write reports and recommendations based on the findings
Ensure that personal protective equipment is available and in good condition
Job Prospects for Industrial Hygiene Professionals
Industrial hygiene is a well-paid field with an Industrial Hygienist salary range of $40,000 to 102,980, but the demand for Industrial Hygienists and Occupational Health & Safety Specialists is expected to decrease in the coming years. Specialists with an advanced degree, certification, or technology skills will have better IHP employment opportunities. The best paid IHP jobs are with the federal government, manufacturing and professional and scientific services.
Certification as a Registered Industrial Hygiene Professional (RIHP)
Certification as a Certified Industrial Professional or Certified Associate Industrial Hygienist is not required, but it is recommended for all industrial hygiene professionals seeking IHP career advancement.
For certification as a Certified Industrial Hygienist, an industrial hygiene specialist needs a bachelor's degree and four years of professional experience with references.
The National Registry of Environmental Professionals® also offers a Registered Industrial Hygiene Professional (RIHP) program requiring a bachelor's degree and three years of work experience. Three years of experience directly related to industrial hygiene can be substituted for each year of an academic degree program. (A bachelor's degree equals 12 years of experience.)
Certification has many benefits, but one of the most important for IHP career advancement is the recognition of your environmental knowledge and expertise that it provides. Certification is recognized by the United States Department of Energy (DOE), the United States Environmental Protection Agency (EPA), The United States Military, and many state and local governmental agencies. Certified professionals are often required to bid on contracts for these agencies, making you more valuable to your employer.
Certification as a Certified Industrial Hygiene Professional or Certified Associate Industrial Hygienist is expected to become more important in the future as job competition heats up.
Job Advancement and Senior Positions as an Industrial Hygiene Professional
Professionals with advanced degrees and registration as a Registered Industrial Hygiene Professional have greater chances of career advancement in the field. Senior level Industrial Hygiene Professionals have many of the same responsibilities as entry level professionals; however, they also gain additional tasks and requirements:
Ability to write policies and procedures for workplace safety
Extensive travel and responsibility for multiple workplaces
Maintain good communication with clients and employees at meetings, seminars, and at the workplace
Manage employees to carry out designated tasks
Stay current on knowledge and applications related to the field and workplace
Attend advanced training on workplace safety
Identify potential hazards or risks within the workplace
Evaluate risk assessment reports to determine whether proper procedures are being followed
Analyze and investigate accidents and illnesses to determine causes and whether changes to procedures are required.
Professional Societies and Organizations for Industrial Hygiene Professionals
Membership in professional societies and organizations helps you stay on top of the field and follow changes as they occur. They are also valuable for networking and IHP career advancement. These are the most prominent professional organizations in the field.
How Can an NREPSM Certification Help?
An NREPSM Certification as a Registered Industrial Hygiene Professional (RIHP) shows that you are knowledgeable in the field and qualified for the position. Certification adds prestige to your resume and provides the following benefits:
Shows employers and clients that you are committed to excellence in the field and ready to meet the unique challenges of the profession
When certification is not required, certification shows initiative and dedication to job advancement
Show that your skills are current and recognized
Recognizes your achievements and provides opportunities for career advancement
Provides opportunities for credential development, attendance at national conferences, participation in environmental education programs, and local and regional affiliated organizations
Provides you with personal satisfaction in achieving certification and mastering new material
A certification separates you for the majority of your peers
Certification verifies and validates your skills to management and clients, while raising confidence in your level of professional expertise.
With continuing education, experience, and appropriate certifications, your career as an Industrial Hygiene Professional can be very promising. Job growth is expected to decline slightly in the future and registration as an Industrial Hygiene Professional will help you stand out as a qualified and recommended professional.