Is Now a Good Time for a Career in Environmental Science?
Submitted on Tuesday, April 19, 2022 - 3:15pm
Trying to make a smart career choice while you're in school can seem like a daunting task. There are just so many questions to answer. For instance, what are you really passionate about? Which job can provide you with a living wage? Will your choice truly make a difference in a chaotic world? Will you still have options if you decide to switch careers sometime in the future? And can an education and career in environmental science provide you with the answers you want? 
We'd argue that they can. If you're wondering is environmental science a good career, then read on! In this article, we'll tell you not only what environmental scientists do and the field's greater impact, we'll also discuss practical considerations, such as educational requirements, salaries, and what the job market in the environmental field is currently like.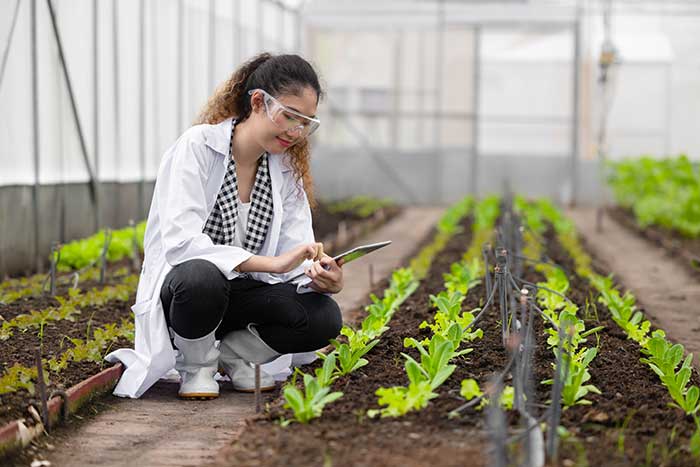 Is Environmental Science a Good Career?
Asking if environmental science is a good career is an obvious "yes," but that reply obfuscates so much pertinent detail. Zoologists work in zoos, and meteorologists study the atmosphere, and microbiologists examine microscopic life, and oceanographers examine the watery depths. Do you know what they all have in common? If you had to describe at least three careers in environmental science (and certainly quite a few more!), these would all qualify. In terms of diversity alone, environmental science certainly qualifies as excellent work. 
However, that's far from the only metric we use when we say that environmental science makes for a good career. From salaries to positive world impact, there are plenty of reasons to get an environmental science degree and put it to work. 
Advantages of a Career in Environmental Science
Whether you work in environmental science government jobs or for private companies, you can look forward to a varied and challenging career. One of the major aspects of any environmental science job is solving problems, and those with jobs in the field often find themselves working, well, in the field! It beats staying sequestered in a cubicle all day. And professionals working in environmental science also have the satisfaction of knowing that their job makes a major difference in the world. 
Why is Environmental Science Important?
If you're considering environmental science careers and salaries or wondering is environmental science a good career choice, then you doubtlessly know why it's an important field. The reason is right in the name. Our environment is the area in which we live, the material world that surrounds us. But more than merely land, water, and air, the environment is comprised of a complex web of relationships between living creatures, chemical processes, and the organic and inorganic surroundings in which they appear.  
These interactions make every sort of life on Earth possible. They are, quite literally, the air we breathe, the water we drink, the land on which we walk — we and every other species. Indeed, the importance of environmental science can't be overstated. Without sensible precautions and protections in place, everyone and everything on earth stands to suffer. 
Should I Study Biology Instead of Environmental Science?
Students who think they may want to specialize in the field of environmental science wonder exactly which educational requirements they should pursue. Are environmental studies a good major? Would studying biology make more sense? What exactly are the environmental science requirements, and how much freedom do you have as you're planning your studies? 
When considering the environmental science sector, the U.S. Bureau of Labor Statistics' Occupational Outlook Handbook notes, "A bachelor's degree in environmental science offers a broad approach to the natural sciences. Students typically take courses in biology, chemistry, geology, and physics. Students often take specialized courses in hydrology or waste management as part of their degree as well. Classes in environmental policy and regulation are also beneficial. Students who want to reach the Ph.D. level may find it advantageous to major in a more specific natural science, such as chemistry, biology, physics, or geology, rather than earn a broader environmental science degree."  
It's true that studying other broader scientific disciplines will definitely enrich your experience if you become an environmental science professional. However, if that's your chosen field, you may want to prioritize an environmental science degree over others. 
What Is the Job Market Like?
Though it's true that environmental science jobs remain competitive, and you'll need to invest in your education in order to secure one, it's also a growing field that's set to keep pace with the rest of the economy. The Occupational Outlook Handbook states, "Employment of environmental scientists and specialists is projected to grow 8 percent from 2020 to 2030, about as fast as the average for all occupations. About 9,400 openings for environmental scientists and specialists are projected each year, on average, over the decade. Many of those openings are expected to result from the need to replace workers who transfer to different occupations or exit the labor force, such as to retire." 
Do I Need a Degree in Environmental Science to Work in the Green Sector?
As we stated a couple of sections ago, an environmental science degree isn't an absolute necessity for someone who wants a career in the field. Here at NREPSM, we sometimes require that our certifications require a degree in an environmentally related discipline. Still, in most cases, an environmental science degree allows you more flexibility than studying other subjects.  
Reasons to Consider a Career in Environment Science
We hope the information above has both satisfied your curiosity about environmental science and piqued your desire to study it! But if you need more reasons, just consider the following: 
You can change the world for the better. Environmental scientists and related professionals do more than merely earn a paycheck. They also make a meaningful contribution, protecting the world for future generations.  
You're a champion of the environment and science. Too often, loud voices drown out reasonable ones, but environmental scientists have the ability to bring tested data and civility to the proverbial table. 
You're analytical, well-organized, and enjoy leading a team. Serving as an environmental professional is a job for leaders, and that's exactly the sort of fulfilling work you'll get to do. 
The job outlook is great. Not only is the environmental field projected to grow 8 percent annually, a large number of countries are set to boost demand as they behave in more environmentally friendly ways. 
You can work anywhere in the world. From jungles to beaches to farmland, the whole world needs environmental professionals, and you'll have the opportunity to work in every sort of context.  
The average salary isn't so bad either. Environmental scientists can expect to earn an average salary of $76,530 as of May 2021.
When you want to take your environmental career to the next level, reach out to NREPSM. Recognized by both the United States Department of Energy and the United States Environmental Protection Agency, NREPSM is an established nonprofit credentialing organization with more than 15,000 members.